Happy St Patrick's Day, y'all! If you've ever wondered what St Patrick was famous for, this tweet got you covered. (Our fave Slytherin is, of course, capitalizing on this opportunity!) In the name of St Pat, here's hoping we banish all the ssssnakes in our lives!
#Inspirational Figures
Stephen Hawking passed away this week, at the age of 76. I admittedly do not know much about him, other than the fact that he defied the odds and made Important scientific contributions on black holes and the existence of alternate universes. But what I liked about him, and what I think distinguished him from other popular scientists, is his warm presence and accessibility. Unlike others (cough cough "Well actually…" Neil DeGrasse Tyson), Stephen Hawking never came across as condescending or patronizing, and had a sense of humour that brought about much-needed levity in a field oft perceived as distant and esoteric. For instance, he had this to say about the discovery that black holes can shrink:
Black holes are not the eternal prisons they were once thought…If you feel you are trapped in a black hole, don't give up. There is a way out.
That's such a nice sentiment?! He also basically gave credence to One Direction AUs in which Zayn is your boyfriend, and delighted kids with his explanation of what happens when we fall into a black hole. May he rest in peace amongst the stars. – C
Bernadette Peters did 15 push-ups on live television at age 70, in a sheath dress and fricken' heels, because she's Bernadette Peters so why are we even surprised anymore at the list of impossibilities that she blithely defies. I watched a gif of this and immediately ordered a yoga mat and did my first Blogilates session. Thanks, Bernadette! – T
We're lifelong fans of The Toast, and I've moulded a clear 50% of my personality on my aspirations to be both Cliffe and Ortberg. The past few weeks, there've been a flurry of excellent interviews with Daniel Mallory Ortberg that have all made me surprisingly choked-up proud, as you sometimes feel for someone you don't know but have followed and loved for years.  This Vox article, in which Ortberg discusses his new novel, contains this list of questions that straight-up gave me anxiety, but in a good way, if that's possible?
Absolutely, yeah, themes of belonging show up in this book. How do the ideas of responsibility versus belonging play up against each other? If you belong to someone, can they make you responsible for them? And what if you don't want to be responsible for them? And what if they tell you that you've promised or committed to doing something that you haven't actually said you would? How do you stop a conversation in the middle and say no to something that someone else has already assumed you're saying yes to?
Daniel also spends this entire interview talking about breakfast, because of course he does, and ever since I read it I have incorporated peanut butter into every meal. And finally, this fantastic interview via The Cut discusses Ortberg's thoughts on gender, transitioning, and losing and finding yourself:
That merry spinster, that Toastified Mallory Ortberg — she was beautiful, and I loved her. And she is! And I do! And she is not gone, there has been no death, no act of violence, no act of disavowal or abnegation or dismissal. And yet she's not herein the way that she was.
It's beautiful, as is everything Ortberg has ever written and will ever write, probably, and I can't wait to go home and charge my Kindle so that I can order "The Merry Spinster" as soon as possible. – T
Media
TAYLOR SWIFT DROPPED A MUSIC VIDEO FOR "DELICATE"!! We've yelled our Feelings about it, of course, In conclusion:
K: Again we give her so much credit
she should pay us
I was super excited to see that Reese Witherspoon and Kerry Washington are due to star in a series adaptation of Celeste Ng's "Little Fires Everywhere" – it's already been picked up by Hulu. C and I both loved the book, which falls into our favourite genre of suburban ennui but is also sharp and sensitive about issues of racism. I can't wait to watch it. The #Reese-urgence is real! – T
The latest season of "Terrace House" dropped on Netflix this week! I have already yelled about my love for this calming, Big Brother-esque Japanese reality show but in case you need more convincing, this season is set in the beautiful resort town of Karuizawa (read: winter sports and onsens!), it already features a Disaster Trainwreck of a puppy-boy, and this screencap presented without context. – C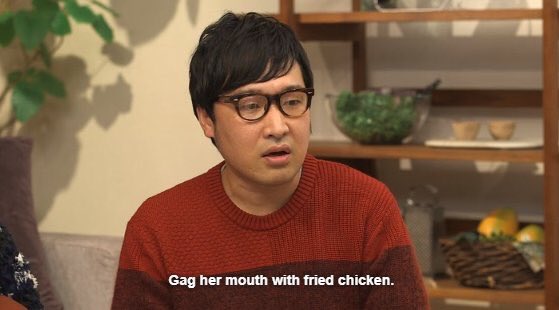 The new trailer for Season 5 of The 100 has also just dropped, and this show — THIS SHOW — this show and this fandom is One Hot Mess, and I don't know if it's because I feel that way because it's the only fandom I am inexplicably still active in or if it is really because it is messier than normal. The 100 is a CW show about a post-apocalyptic world inhabited by teenagers (yup!), and its first two seasons were interesting explorations of the formation of society, the ethics of surviving versus living, the dynamics of power and organisation in times of conflict, and what it means to be "civilised" in a world ravaged by nuclear war. ALSO, it features a very strong female cast.
Then it was forever tainted by the fridging of lesbian character Lexa and some shitty queerbaiting from the showrunner, but continues to limp on. I wasn't suuuuper excited about this trailer because it looks like a rehashing of themes which I feel have been done to death, but EXPECT FEELINGS when the first episode drops. I just can't quit this show. Can they just give these kids something more than war. I'd like to see crop failure, weather changes, interpersonal strife and animal husbandry, please and thank you. -K
Books
"It does not hit you until later. The fact that you were essentially dead does not register until you begin to come alive. Frostbite does not hurt until it starts to thaw. First it is numb. Then a shock of pain rips through the body. And then, every winter after, it aches. And every season since is winter, and I do still ache."
I recently read Marya Hornbacher's "Wasted", a memoir of the author's grapplings with anorexia and bulimia. I ache with envy at the brilliance of her writing–the terse, brutal, careering beat poetry of this examination of her girlhood and teenagerhood, her hospital stints, her relationship with food, self, family, work, and literature. Its themes–relentless perfectionism, the quantification of the self, the desire to disappear, that the body is both disappearance and spectacle, or at least a spectacle when it disappears, and on some days an encumbrance, messy, unwanted–are extremely powerful. The sheer fury and anger in this, the sardonic nipping creativity, is in stark contrast to the way that eating disorders are often portrayed as laconic, passive, feminised, vain. It is excellent, but difficult to read, and I don't know if I would recommend it, in a conventional way. I think this book will haunt me. – K
Doggo of the Week
The New York Times reported that a recent study proved that sleeping in the same bed as your dog is NOT disruptive. C has ample empirical evidence to support this study, although the fact that Cookie likes to sleep at her feet makes it hard for her to fully stretch out her legs. Also, the article has excellent pictures of sleeping doggos, so click on that, stat.
Aaaand that's all we have for you this week! As always, share your comments, questions and feelings to us on our Twitter. Till next week!